Seeing is Vital to the Quality of your Life
At Heller Eyecare, our goal is to provide our patients with skilled and comprehensive eye care. We will use the highest quality materials and provide the same superior service that we would expect to receive. We are dedicated to satisfying the needs of our patients; making the health of their eyes our number one priority.
Tech Focus: Dry Eyes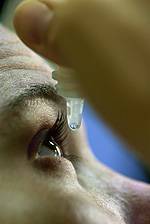 Most eye doctors will tell you that rubbing your eyes is harmful and can damage your cornea. It's recommended that you rely on over the counter eye drops if the dryness is mild and soothes the irritation, but if eye drops fail to do the trick, the next best case would be visit one of our optometrists at Heller Eye Care. We can advise you how to deal with your dry eyes in the safest & most effective way.
Jun 29, 2016
If you have an eye exam and are told you have 20/20 vision, does this mean you have perfect eyesight? Is it possible to achieve even better than 20/20 vision? And what is "perfect vision" anyway? To answer these questions, let's take a closer look at vision-related terminology to fully understand...
Read More
I have never had an eye doctor be so thorough and honestly care that I could see as well as is possible, and I have been to plenty of eye doctors in my lifetime. He is obviously in his profession for all of the right reasons & is extremely talented...
Read More
LOCATE US
230 Lowell St., Suite 1B
Wilmington, MA 01887
SPEAK TO US
Phone: 978-658-2020
Fax: 978-658-2657
HOURS
Monday
8:30 am – 5:30 pm
Tuesday
8:30 am – 8:30 pm
Wednesday
9:00 am – 2:00 pm
Thursday
8:30 am – 5:30 pm
Friday
8:00 am – 3:00 pm
Saturday
By Appointment Only
Sunday
Closed
*Doctor available one Saturday per month.